Environmental Conservation ~ for future generations ~

For future generations…
Origin technology contributes to the conservation of the global environment
Global environmental regulations are being strengthened. In Japan, existing regulations include the Law for the Promotion of Utilisation of Recyclable Resources, Recycling Law and "3R." In Europe, regulations have been strengthened by the RoHS Directive, REACH Regulation and WEEE Directive. In the face of stricter environmental regulations, we make sure our manufacturing processes have negligible impact on the environment, that our products are highly environmentally friendly and easily recyclable, and that stable manufacturing and marketing deliver products of ever higher quality. Returning to the starting point of the "origin of technology," we would like to contribute to an affluent society while at the same time not lose sight of promoting life styles that are in harmony with our global environment. We intend to make "Environmental assessment of products" an even greater theme in our continuing effort to develop technology and products that are friendly to our global environment.

In line with the management philosophy of Origin Electric of "To become a company with a strong presence in the service of human society," we are aware that living in harmony with the global environment is one of human society's highest priorities. We intend to fulfill our social responsibility to conserve the global environment by ensuring that all our operations comply with environmental conservation.


Since our inception we have been engaged in developing technologies and products that conserve energy, use green energy and are non-polluting. With our increasing awareness of the significance of global environment issues, we will make a concerted effort to ensure that our products and all our corporate activities are environmentally friendly.
In addition to complying with laws and regulations regarding environmental conservation and heeding the demand by society for social conservation, we will establish a voluntary standard to protect and improve the environment.
We will establish goals to reduce our impact on the environment and make efforts to achieve those goals.
We will manufacture products whose development, design and manufacture are friendly to the environment. Each employee shall at all times in the pursuit of their duties strive to ensure that their activities are friendly to the environment.
We will maintain and improve an environmental management system on a continuous basis to seriously promote the saving of resources and energy and the reduction of waste to promote prevention of environmental pollution.
We will cooperate with the local community and our business partners to promote environmental activities.
We will inform all employees in our group and affiliated companies of our basic environmental policy.
We will openly disclose environmental data both inside and outside the company.
Examples of Environmentally Friendly Products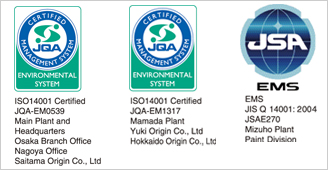 Origin Electric is now conducting an environmental assessment of products, a major environmental measure. We have also created a "Register of products that are environmenta lly friendly" that is based on their environmental impact. Some of the registered products will be categorized by division.
   Electronics Business
Commutation device for mobile communication bases
This product is a 48 V, 50 A low-profile and compact rectifier for communications devices designed to fit in a 19-inch rack with a height of 1U. It is environmentally friendly, the solder used is lead-free and the plates and securing screws are chrome-free. The mass of the product is about half that of the earlier model. Plastic materials, manufacturing processes and plastic material labeling conforms to our green procurement guideline.
   Mechatronics Business
Blu-ray Disc mass production equipment
This product has been developed for manufacturing Blu-ray discs (dual or single-layer BD-ROMs). Proprietary processes have reduced the number of units and the optimization of unit configuration has raised speed and decreased foot print.
Compared to our previous model (Azu 12.0-SL/DL), the current model is 46% lighter and has a 51% smaller footprint. Thanks to its compact size power consumption has dropped by 47%.
    Chemitronics Business
Water-based paint "Plameez series"
TX-free paint "Econet series"
The environmental issues of paints and pigments involve two types: outdoor and indoor paint.
We have developed water-based paint (Plameez series) that effectively removes the need for VOC (volatile organic compounds). This type of paint is highly flexible in that it can also be used for automobile interiors, electric appliances and for a great many other applications. For indoor use, we have developed a TX-free paint (our Econet series) that does not include toluene, xylene, ethyl benzene and other chemicals as a countermeasure to the "sick-house syndrome."